Natural disasters resulted in $210 billion of losses in 2020, as 26.5% increase from 2019, as countries around the world struggled to deal with record-breaking hurricanes, floods, and wildfires, on top of a global pandemic. Of those losses, about $82 billion in damages was insured. For the U.S. alone, 2020 set a new annual record with 22 billion-dollar weather and climate disaster events. Most devastating was that last year's natural disasters claimed approximately 8,200 lives.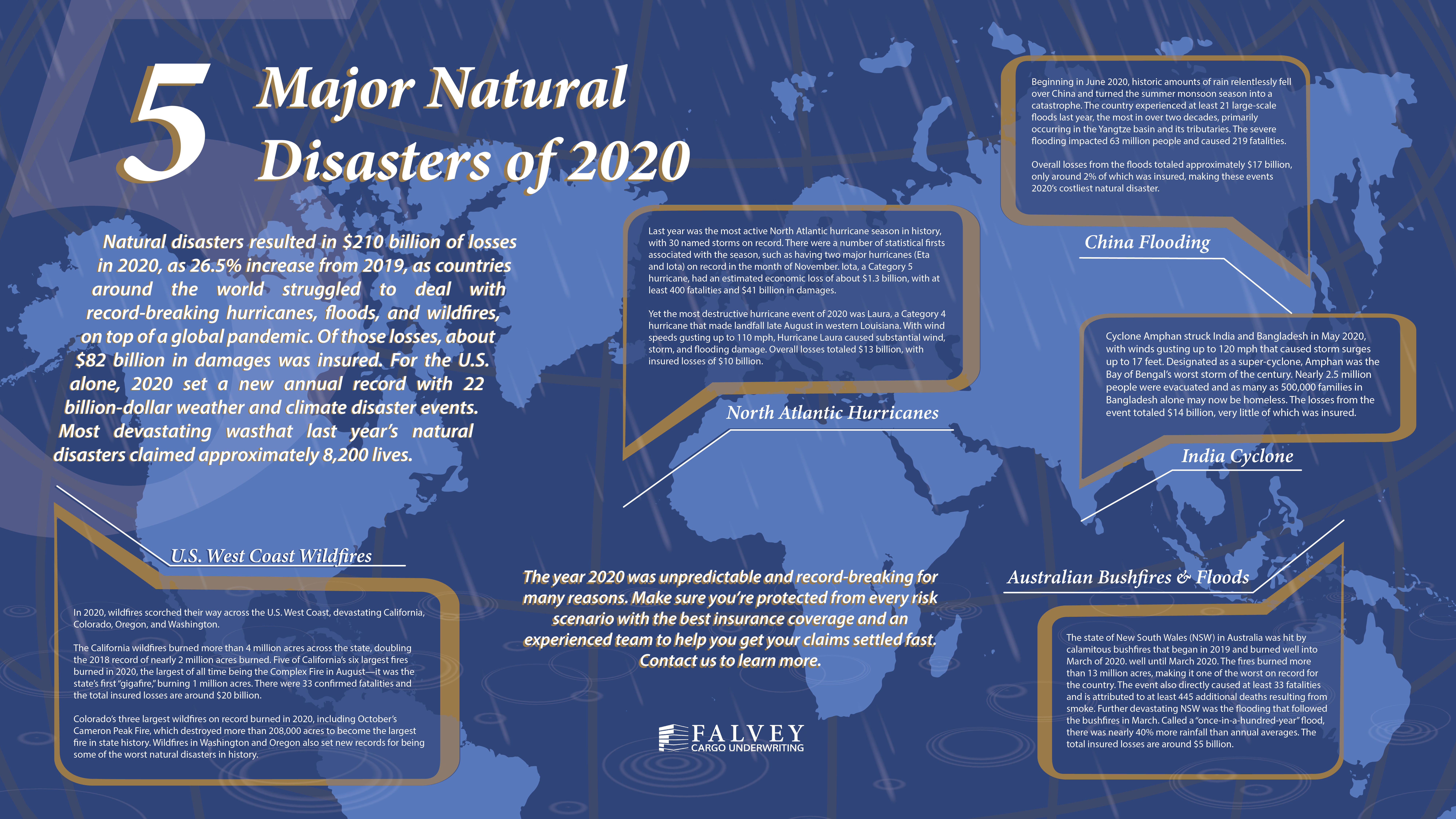 Here's a quick summary of five of 2020's biggest natural disasters and the associated losses (in no particular order):
Beginning in June 2020, historic amounts of rain relentlessly fell over China and turned the summer monsoon season into a catastrophe. The country experienced at least 21 large-scale floods last year, the most in over two decades, primarily occurring in the Yangtze basin and its tributaries. The severe flooding impacted 63 million people and caused 219 fatalities.
Overall losses from the floods totaled approximately $17 billion, only around 2% of which was insured, making these events 2020's costliest natural disaster.
North Atlantic Hurricanes
Last year was the most active North Atlantic hurricane season in history, with 30 named storms on record. There were a number of statistical firsts associated with the season, such as having two major hurricanes (Eta and Iota) on record in the month of November. Iota, a Category 5 hurricane, had an estimated economic loss of about $1.3 billion, with at least 400 fatalities and $41 billion in damages.
Yet the most destructive hurricane event of 2020 was Laura, a Category 4 hurricane that made landfall late August in western Louisiana. With wind speeds gusting up to 110 mph, Hurricane Laura caused substantial wind, storm, and flooding damage. Overall losses totaled $13 billion, with insured losses of $10 billion.
U.S. West Coast Wildfires
In 2020, wildfires scorched their way across the U.S. West Coast, devastating California, Colorado, Oregon, and Washington.

The California wildfires burned more than 4 million acres across the state, doubling the 2018 record of nearly 2 million acres burned. Five of California's six largest fires burned in 2020, the largest of all time being the Complex Fire in August—it was the state's first "gigafire," burning 1 million acres. There were 33 confirmed fatalities and the total insured losses are around $20 billion.

Colorado's three largest wildfires on record burned in 2020, including October's Cameron Peak Fire, which destroyed more than 208,000 acres to become the largest fire in state history. Wildfires in Washington and Oregon also set new records for being some of the worst natural disasters in history.
Australian Bushfires & Floods
The state of New South Wales (NSW) in Australia was hit by calamitous bushfires that began in 2019 and burned well into March of 2020. well until March 2020. The fires burned more than 13 million acres, making it one of the worst on record for the country. The event also directly caused at least 33 fatalities and is attributed to at least 445 additional deaths resulting from smoke. Further devastating NSW was the flooding that followed the bushfires in March. Called a "once-in-a-hundred-year" flood, there was nearly 40% more rainfall than annual averages. The total insured losses are around $5 billion.

India Cyclone
Cyclone Amphan struck India and Bangladesh in May 2020, with winds gusting up to 120 mph that caused storm surges up to 17 feet. Designated as a super-cyclone, Amphan was the Bay of Bengal's worst storm of the century. Nearly 2.5 million people were evacuated and as many as

500,000

families

in Bangladesh alone may now be homeless.

The losses from the event totaled

$14 billion

, very little of which was insured.
The year 2020 was unpredictable and record-breaking for many reasons. Make sure you're protected from every risk scenario with the best insurance coverage and an experienced team to help you get your claims settled fast. Contact us to learn more.