For many of us in the U.S., receiving the COVID-19 vaccine is as simple as walking into a local pharmacy. However, getting vaccinated isn't so easy for those who live and work on the sea. After all, how can seafarers access vaccines if they cannot leave their ship or port? That's an issue the Mission to Seafarers (MTS) set out to solve.
In early spring 2021, as the COVID-19 vaccine became available in the U.S., MTS, an organization dedicated to supporting and sustaining mariners, soon recognized the logistical challenges of providing vaccines for crew members at sea.
To overcome these obstacles, the Director of Strategic Operations for the NW Seaport Alliance contacted the Executive Director at the Seattle Seafarers' Center and Discovery Health, a maritime medical care clinic. Together, they devised a way to begin delivering vaccines to seafarers at the Port of Seattle, Washington.
Photos from Seattle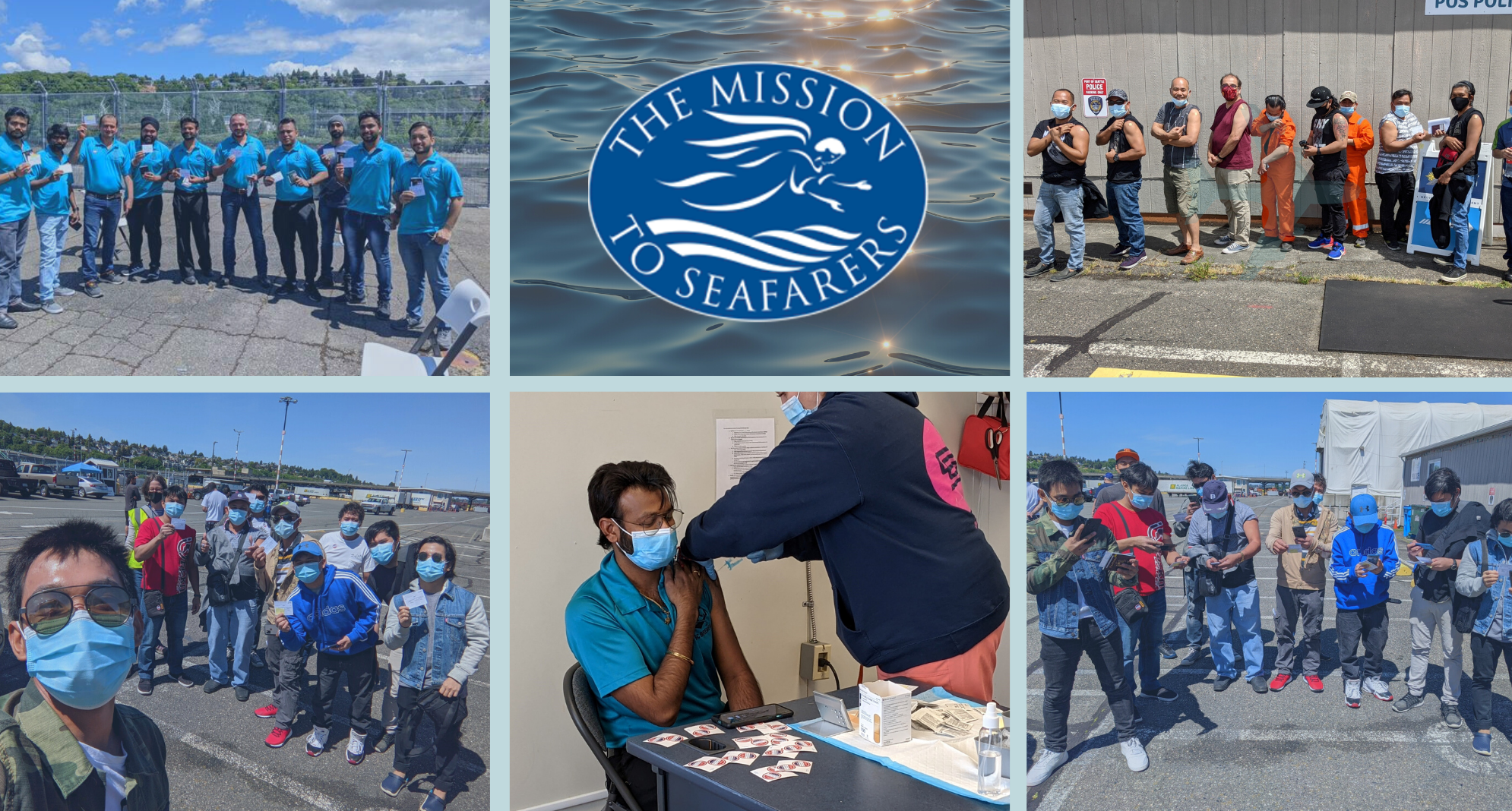 In May, they put the plan into action, making Seattle the first port on the West Coast to initiate onboard vaccinations. The Port of Oakland quickly followed suit, and vaccination efforts spread to the East Coast as well, where, for example, the Baltimore International Seafarers' Center began offering shipboard vaccinations at the Port of Baltimore.
Up north, Canada is working toward vaccinating seafarers, too, but is facing its own set of challenges. For instance, instead of the convenience of providing port clinics or onboard vaccinations, they are transporting seafarers to local vaccination centers due to the design of their public health system. Also, the country is currently only permitting the first vaccine for non-Canadian residents, further complicating the vaccination process.
Although it is a slow and sometimes challenging process, seafarer vaccination rates are continuing to rise. As of September, an estimated 22% of global seafarers are vaccinated, which is up 7% from the previous month. In the Puget Sound alone, 2,925 merchant seafarers and 1,061 cruise ship crew members were vaccinated as of September 20. What's more, the Seattle-area MTS initiative continues to receive 50 to 200 vaccination requests a week, steadily increasing the total number of protected seafarers.
Here at Falvey Cargo, we are an official supporter of MTS. Their vaccination effort has helped make life safer at sea and port. But the vaccination initiative has also provided seafarers with the opportunity to safely leave port, enter their own countries, and visit their loved ones with shorter quarantine periods and a stronger peace of mind when it comes to their health and safety.
To learn more about Falvey Cargo's partnership with the Mission to Seafarers, click here.
Stories from the Ports
"A coal crew didn't have time to get vaccinated in Norfolk VA, so the ITF inspector contacted us August 27 about vaccinating them when they docked Baltimore to finish loading coal. Coal ships typically anchor for 2 to 4 weeks in the Chesapeake Bay, waiting for the berth to clear. (Delays can result from mechanical issues, weather, or lack of coal, which must be brought in by train from out of state, to load.) The port website we follow may show changed docking dates and times twice a day for weeks! And that's what happened with this vessel.

Agents don't put anyone on the gate list till the vessel has actually docked. In this case, agent couldn't confirm docking till 2000. Problem: this vessel had already loaded some coal in Norfolk and might sail as early as 1000 the next morning, after loading a relatively small amount in Baltimore. So our heroic pharmacists agreed at 2000 to meet at the terminal gate at 0645. Next problem: Security hesitated to let us in because "Customs hasn't cleared the vessel yet." (The excellent supervisor hadn't had time to read everything on her desk at the beginning of her shift.) Fortunately, I was able to respond 'This vessel cleared CBP in Norfolk, and these pharmacists need to vaccinate before the vessel sails.'

So we got it done on September 14--almost 3 weeks after the ITF referral."
-- (The Rev.) Mary Davisson, Director of the Baltimore International Seafarers' Center
"Some crew were overjoyed and jumped at the chance. In addition to extra protection against COVID, vaccinations also meant crew would be subject to shorter quarantine periods when they went home. Families were thrilled, too, knowing that their beloved seafarers finally were protected. Other crew members were hesitant. Because the vaccine was free in Washington State, some crew and owners thought this was too good to be true or that the vaccine was fake. Others were concerned about the emergency authorization or about the side effects. Most crew overcame their concerns though and decided to get their vaccinations.

I also love being with crews when they get their jabs. You can feel the joy and relief radiating from the crew!"
--The Rev. Cristi Chapman, Executive Director of the Seattle Seafarers' Center